SonPulse Savoury Fillings
Welcome to the world of savoury snacking! A growing market segment with a lot of potential, especially in the bakery world! With the innovative filling for all your premium savoury snacks! 
Future food: savoury snacks
Are you ready for the next big opportunity in the bakery industry in the world of savoury snacks?! As consumer preferences shift towards healthier and more sustainable choices, there's a growing demand for plant-based options. Combining these two trends in our innovative fillings, crafted with the finest plant-based ingredients, allowing you to create a range of savoury snacks to jump on this evolving trend.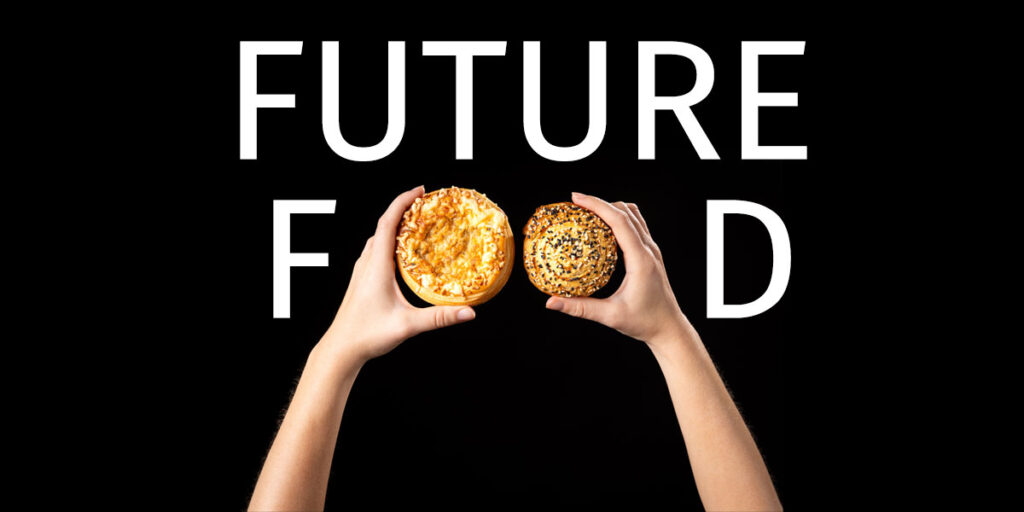 A new canvas for creativity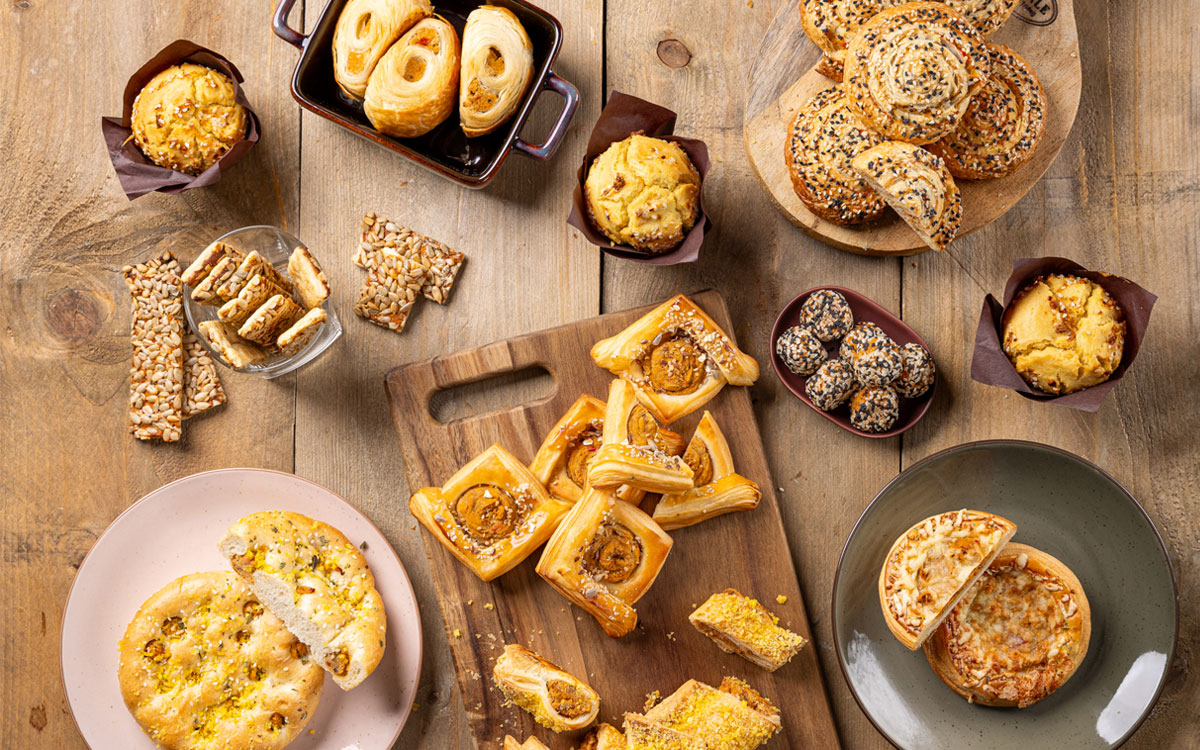 From pastries to mouthwatering viennoiserie, our fillings provide a canvas for your creativity, enabling you to offer a diverse selection of appealing treats that resonate with health-conscious and environmentally-aware consumers.
By incorporating our plant-based savoury fillings into your product line, you're not only satisfying consumer desires but also positioning your industrial bakery at the front of a thriving market segment, ready to delight and captivate a new wave of snack enthusiasts.
Two types of base fillings to flavour as you wish or multiple ready to use flavoured fillings, which one will you choose?
The savoury fillings are suitable for all types of snacks and bakery products. We offer two kinds of base fillings, which you can season as desired with herbs, spices and fresh ingredients such as vegetables, pulses, meat replacements or even chicken, meat or salmon. Or do you rather choose our complete ready-to-use fillings, which comes in flavour profiles such as Italian, Mexican, Barbecue Chicken, Korean or Tandoori?
Which ever you choose, there are endless possibilities!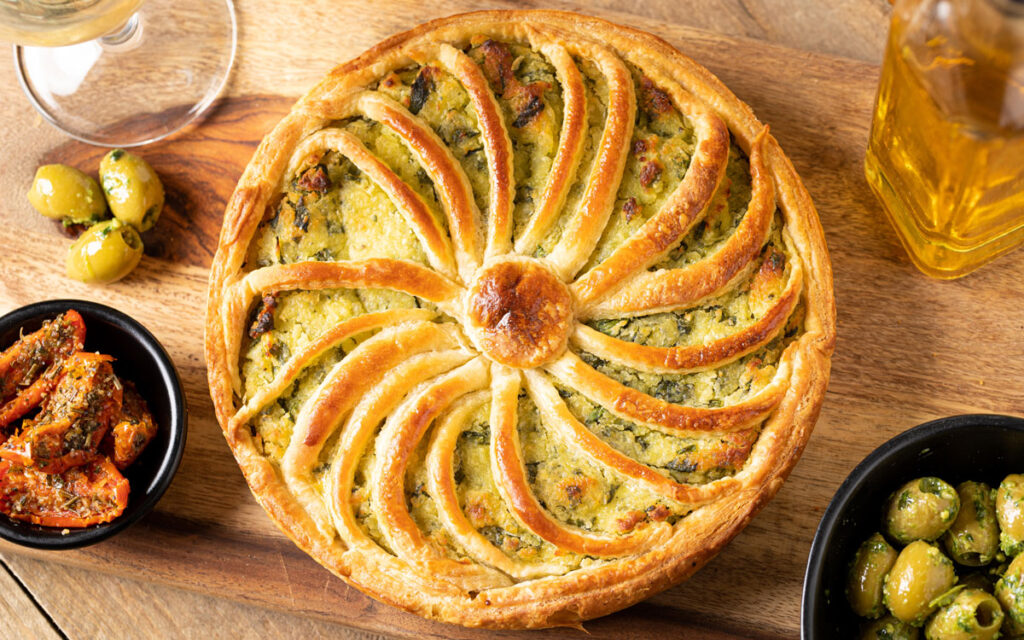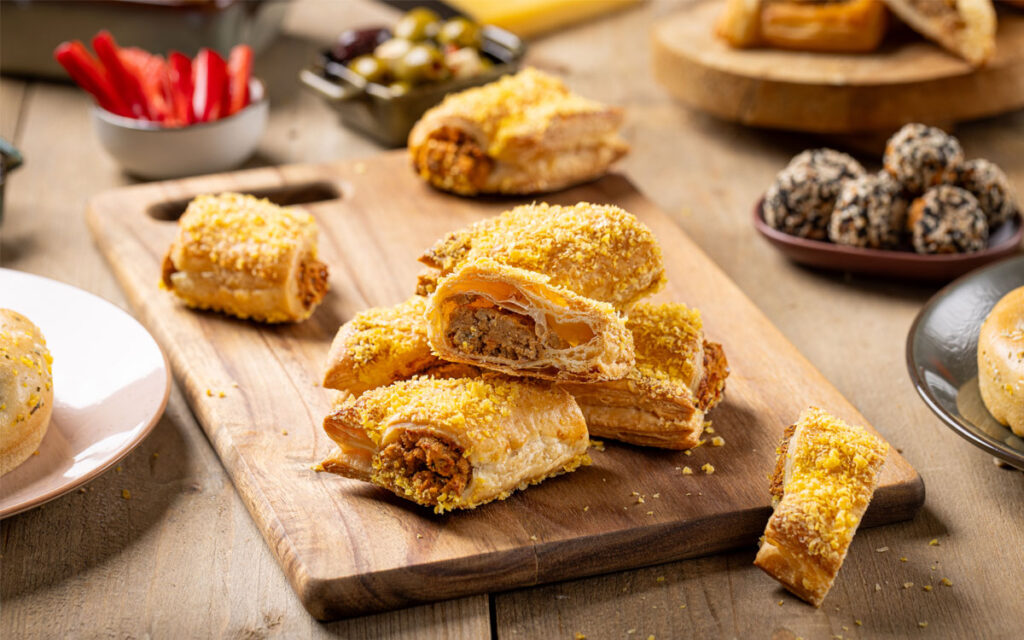 All our savoury fillings are: 
A versatile base to fill savoury snacks
Bake and freeze stable
Nutricious filling: contains vitamins, high in plant based protein and high in fibres (12%)
Very low in saturated fat, low amount of carbohydrates (no sugar added) and low in calories
Based on pulses, instead of soy
Easy to use
Adjust the consistency and smoothness of the filling thanks to the high water binding capacity 
Sustainable with a low carbon footprint 
On the go
The Generations Z and Millennials are looking for convenience as they are often on the road
Lunch
Savoury snacks are products most likely to replace bread at breakfast or lunch
To share
1 in 2 consumers worldwide say they replace their meal with a quick snack to share
Inspiration recipes with our SonPulse savoury fillings
Consumer surveys show that 51% of the consumers would be motivated to consume more plant-based alternatives.
Change is in your hands.
Get ready to go beyond with future food
You will be the innovator in the bakery market if you add savoury fillings to your product portfolio. This gives you the opportunity to be amongst the first in your market to offer savoury snacks to your customers. 
Entering new opportunites with savoury fillings will enable you to bake premium quality snacks. Get in touch with our experts to explore the possibilities in your market.
https://c.spotler.com/ct/m18/k1/M9cQadM1RvcqBXSMy1ZphHOlAEI-1rDKx0P6hLtFGz5Wh1wxYpLiqhxX6ckgEkMc/gHXRMpnX5cLePrV
Get in touch with us
Reach out to your local contact to help you get the best version of your bakery products yet