A perfect release, at a lower cost!
Using the right release agent and application method for your bakery situation makes it easier to bake high-quality products at the lowest cost-in-use. 
Achieve a flawless and quick release with Goldwax
Each bakery encounters their own challenges when it comes to de-panning of baked goods. Your goal is to produce high quality products in an efficient manner, at the lowest cost possible. Using the right release agent and application method for your bakery situation makes it easier to bake high-quality products and stay in control of your costs. 
Goldwax® has been specially developed for the release of confectionery products with a high sugar or protein content. Thanks to the high release power, Goldwax ensures that your bread and pastry products are being de-panned perfectly and without product damages. An efficient release reduces the risk of production delays, product loss and rejects on the production line and therefore waste. On top of that, Goldwax consists of 100% vegetable oils and waxes. 
Goldwax Spray
Convenient aerosols/sprays that make the manual application of release agents quick and easy for artisanal bakeries
Easy Go® Pro
The Easy Go® Pro systems is the perfect solution for bakeries who wish to apply release agents on a larger scale
Industrial solutions
Our Goldwax® release agents are perfect for industrial spraying equipment in the bakery industry, with a reliable fully automated spraying pattern
Guide to the perfect release
Releasing your bakery products from baking tins, pans, moulds, trays or steel belts without any issues can be quite the challenge. Therefore, our release agent experts have created a guide for you to lower your cost in use, while maintaining the perfect release of your baked goods.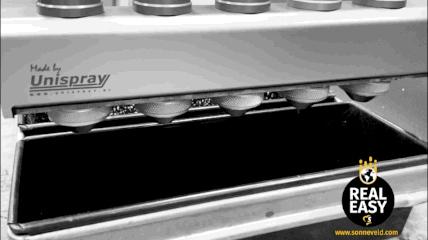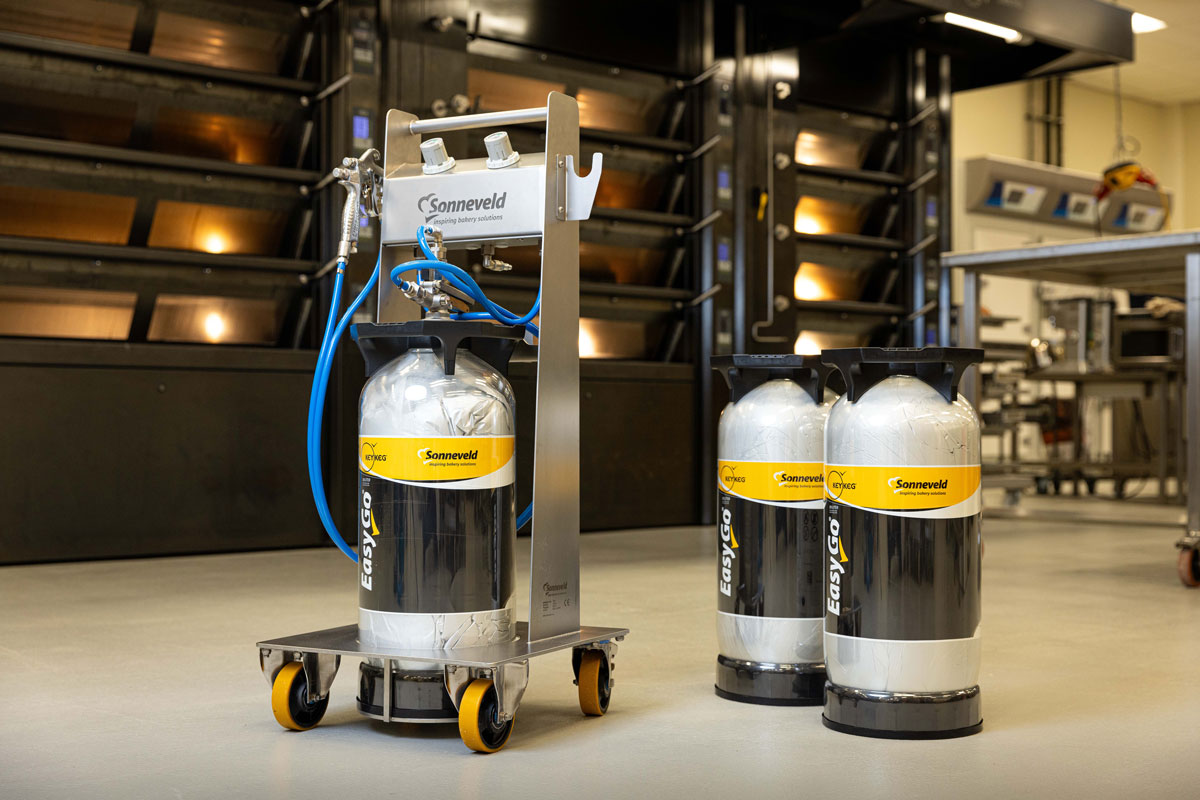 Real easy with Easy Go® Pro
Easy Go® Pro is a complete spraying system for an easy application of release agents resulting in beautiful end products, flawless and quick release and the application of dividing oils. The constant spray pattern ensures that the product is evenly distributed on the surface, while the environment stays clean. Easy Go® Keg is a closed system and reduces fogging in the bakery, so this brings more convenience and hygiene in the bakery. The system needs compressed air.
• Complete stand-alone system
• 20 litre sustainable packaging
• Easy to connect
Looking for the right release agent for your industrial bakery? Fill in the form below and we'll get in touch with you for the right solution!
https://c.spotler.com/ct/m18/k1/HP4K1WzyPDmDoAcW40Q9j9AQSgODdGCbIn-wwbyxAjOteUIljkwZNfj_s25bcsLt/g45KYs6KwcLtW6u
Discover all our release solutions
De-panning your products perfectly depends on two things: a powerful releasing agent combined with a reliable spraying system. It is important to make a considered choice concerning the recipe, baking process, baking tray or tin (type, material, coating, age), the desired shelf life of the end product and the packaging. Find the right release agent suitable for your bakery situation, your machinery and your baked goods by browsing through our range of release agents. 
Read our blogs for tips from our experts
Releasing your bakery products without issues or damages can be quite challenging. Using a quality release agent can provide a significant cost saving by reducing the amount of oil being used, limited overspray and waste of damaged end products. Therefore, our release agent experts share their knowledge with you on which challenges you could face and how to achieve the lowest cost-in-use for your bakery. 
Just a matter of MAKE, SPRAY & BAKE!